Institute for Philosophy & the Arts'
Salon on the Spiritually Creative Life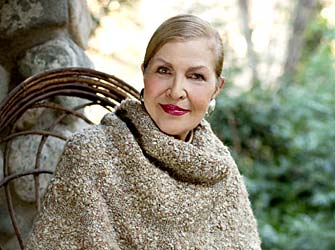 [Photography by Nathaniel Taylor]
THE SALON ON THE SPIRITUALLY CREATIVE LIFE
Our 25th Year Continues!
Daylight Savings Time begins!
Set Clocks Ahead one hour!!
Please join Carol Soucek King virtually on Sunday, March 14, 2021 Via Zoom or Call-In* to discuss the third theme in her UNDER THE BRIDGES AT ARROYO DEL REY
POSSIBILITY
9:30 am – Zoom Room Arrivals and
Himalayan Singing Bowls by Healing Arts Practitioner
Janet Martorello

10 am until noon – Program
Meditation
with
Nan Rae
Artist/Teacher/Author
Opening Song and Comments
"In This Garden"
Nancy Glowacki
Singer/Composer/Lyricist
Salute to March Birthdays
with
Graham Lance Richardson

"All Things Are Connected...
There Is No Empty Space"
Presented By


Dean LeGrand Carlston, DDS


Singer/Composer
Followed by Discussion
Getting us started with comments on "Possibility" will be Edward Goldstein, Martha Draper, Lenore "Nino" Wong, Gail Kennard, Jim Vitale, Lynne Velling, Gary Stickel
All are invited to participate - just "raise your hand"
so that Curtis McElhinney will call on you.
Highlighted with Songs
"This Land Is Your Land"
&
"Abijalehu"
Alula Tzadik
Singer/Songwriter
Finale
"A Psalm of Life"
Susie Katharine Shaw
Actress/Vocalist
And then Susie will lead us in Richard King's favorite
Native American Prayer

---
About Our Speaker
Dean LeGrand Carlston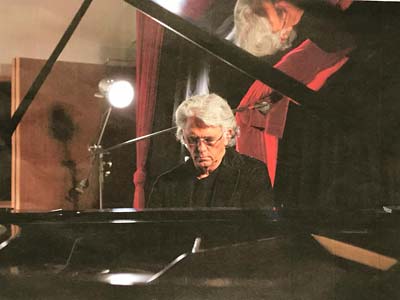 Dean LeGrand Carlston, DDS, graduated from Baylor Dental College and has been practicing general dentistry with special interest in Orthodontia, Implants and Cosmetic procedures. Considering the high esteem in which he is held in everything he does, the biography he offers is brief. Yet, as those of us privileged to know Dean have come to realize, understatement of anything to do with him personally is totally characteristic of this kind, thoughtful gentleman: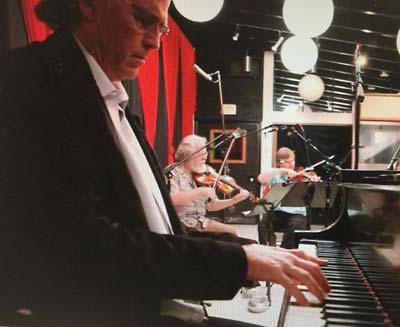 Right: Dean at the The Village Recording Studio's piano, accompanied by a string quartet of four members of the Los Angeles Philharmonic.
"I have five children from my first marriage and one adopted child from my second. I and my sweetheart Suzanne Stillman are caregivers for her son and her son's girlfriend. These are special adult children who need supervision. They are very appreciative of the love and care they receive under our care. They do what they are capable of doing and Suzanne mostly fills in the gaps. I help as I can considering I still work full time in dentistry.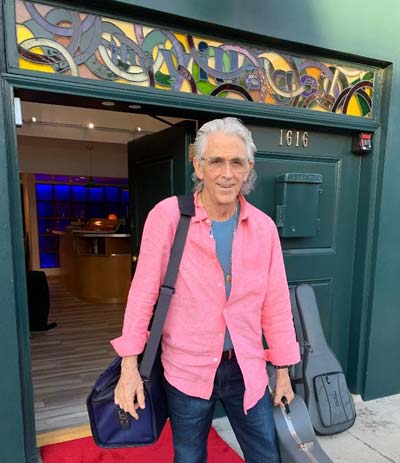 Left: Dean leaving rehearsal at The Village Recording Studio on Butler and Santa Monica Boulevard, West Los Angeles.
My interests outside of dentistry include Music Composition with a spiritual foundation, and the study of human potential and the interactions that many amazing people are studying and with which they are attempting to inform those of us who are searching for light and truth.
I truly believe that out of the darkness we are currently struggling through, there will come a great awakening; and peaceful co-existence will prevail throughout the world."
Our Journey Home
We're sailing on the sea of life,
facing obstacles in our way,
as we command our vessel,
what will be our compass day by day?
We must express our true identity,
it is all we really possess,
each person divinely implanted,
with power to heal and bless
We each have something special to say,
no one else can say it just our way
Our purpose:
To add to the pool from which, all may drink
Together sharing life's wisdom,
single strands woven to one force,
greater strength within this union,
the sum acquired from our common source
Limitations, they're just illusions.
Threads masquerading as chains that bind,
see through these limitations.
Forgive… Love… And be kind
And so, we travel through life's purpose,
hand in hand much stronger than alone,
arms embracing one another,
until our journey finally brings us home
Dean LeGrand Carlston ©2/17/2018
Deancarlstonmusic.com
Lyric inspired by the writings of:
Carol Soucek King, MFA, PhD,
Hua Anwa, Native American Spiritual Leader
Nan Rae, Artist, Motivational Speaker
---
For the time being, the Salon will continue to meet on Zoom. When appropriate, we will meet in person once again at Arroyo del Rey.
---
For access to the Salon on Zoom:
This meeting is being hosted by Zoom.
There is no charge to use this service.
Before the Salon on Sunday:
You will need to either go to the Zoom website, www.zoom.us, and register for a free account to access this meeting through your web browser or download and install the Zoom application on your device.
If you download the application to your device, you do NOT need to register for a free account. To download the Zoom application, click on this link... https://zoom.us/download
For any questions or assistance,
email Curtis McElhinney at Curtis@curtisvision.com
---
"In This Garden"
Lyrics & Music by Nancy Glowacki ©2005
The Earth became a home for all its creatures
Thousands of years have since come and gone
Then it became OUR time to walk together
In this fair garden, we are to belong….
But we find fear in so many voices
Fear that would have us all believe
That we are separate, unequal in worth!
When did the wonder and our innocence take leave?
How can it be that we can't see…
this "garden" is just as it's meant to be?
How can we choose to be blind sometimes….
and fear, not love , the "flowers" we find ?…
CHORUS
In this garden… planted together
Different minds, but One in love
We could be that free….
In this garden… growing together
Different colors, but One in Peace
We are meant to be.
Grow strong and tall … no fear in our minds
Trusting the wisdom … of this perfect design
Though we're a small part in the passing of time
We each make a difference that feeds the Divine.
Some creatures walk … some creatures fly…
some live on earth…in water, or sky
Sharing the journey of our time to grow…
to be all we can from the seeds …we sow…
CHORUS
"This Land Is Your Land"
Words and Music by Woody Guthrie
This land is your land, this land is my land
From California to the New York island,
From the redwood forest to the Gulf Stream waters;
This land was made for you and me.
As I was walking that ribbon of highway
I saw above me that endless skyway;
I saw below me that golden valley;
This land was made for you and me.
I've roamed and rambled and I followed my footsteps
To the sparkling sands of her diamond deserts;
And all around me a voice was sounding;
This land was made for you and me.
When the sun came shining, and I was strolling,
And the wheat fields waving and the dust clouds rolling,
As the fog was lifting a voice was chanting:
This land was made for you and me.
As I went walking I saw a sign there,
And on the sign it said "No Trespassing."
But on the other side it didn't say nothing.
That side was made for you and me.
In the shadow of the steeple I saw my people,
By the relief office I seen my people;
As they stood there hungry, I stood there asking
Is this land made for you and me?
Nobody living can ever stop me,
As I go walking that freedom highway;
Nobody living can ever make me turn back
This land was made for you and me.
"Abijalehu"
Written, arranged, performed, directed, produced and choreographed by Alula Tzadik. Part of the video shown at Salon is filmed in Africa's first and oldest theater hall, located in Addis Abeba, the capital of Ethiopia.. And another part was filmed in Jerusalem, Israel.
ABIJALEHU means
I AM CRAZY,
MY HAIR IS CRAZY.
MY CAR IS CRAZY,
THE TIRES ARE CRAZY,
MY SHIRT IS CRAZY,
MY SNEAKERS, MY MUSIC, THE BUS,
THE TAXI, THE POLICE, THE JUDGES,
THE TREES, THE FLOWERS, THE PEOPLE,
BUT FATHERS ARE NOT CRAZY,
MOTHERS ARE NOT CRAZY....
"A Psalm of Life"
Henry Wadsworth Longfellow
Tell me not, in mournful numbers,
Life is but an empty dream!
For the soul is dead that slumbers,
And things are not what they seem.
Life is real! Life is earnest!
And the grave is not its goal;
Dust thou art, to dust returnest,
Was not spoken of the soul.
Not enjoyment, and not sorrow,
Is our destined end or way;
But to act, that each to-morrow
Find us farther than to-day.
Art is long, and Time is fleeting,
And our hearts, though stout and brave,
Still, like muffled drums, are beating
Funeral marches to the grave.
In the world's broad field of battle,
In the bivouac of Life,
Be not like dumb, driven cattle!
Be a hero in the strife!
Trust no Future, howe'er pleasant!
Let the dead Past bury its dead!
Act,— act in the living Present!
Heart within, and God o'erhead!
Lives of great men all remind us
We can make our lives sublime,
And, departing, leave behind us
Footprints on the sands of time;
Footprints, that perhaps another,
Sailing o'er life's solemn main,
A forlorn and shipwrecked brother,
Seeing, shall take heart again.
Let us, then, be up and doing,
With a heart for any fate;
Still achieving, still pursuing,
Learn to labor and to wait.
---
All 2021 Salon dates and themes
STABILITY
Sunday, January 10, 2021
GROWTH
Sunday, February 14, 2021
POSSIBILITY
Sunday, March 14, 2021
SPECIAL PRESENTATION
Sunday, April 11, 2021
SPECIAL PRESENTATION
Sunday, May 9, 2021
HUMOR
Sunday, June 13, 2021
UNDERSTANDING
Sunday, July 11, 2021
KINDNESS
Sunday, August 8, 2021
HARMONY
Sunday, September 12, 2021
LOVE
Sunday, October 10, 2021
HEALING
Sunday, November 14, 2021
SPIRITUALITY
Sunday, December 12, 2021
Please let us know which salons you can attend by calling (626) 449-1238.

With all loving thoughts and hoping to see you soon!
Carol Soucek King, M.F.A., Ph. D.
Email: KingCarol@aol.com

---
CAROL SOUCEK KING MFA, PhD © 2002-2020 All rights reserved