Institute for Philosophy & the Arts'
Salon on the Spiritually Creative Life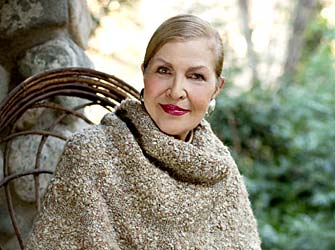 [Photography by Nathaniel Taylor]
THE SALON ON THE SPIRITUALLY CREATIVE LIFE
Welcome Everyone!
The Commencement of our 27th Year
... on Zoom!
Please join Carol Soucek King virtually on
Sunday, December 10, 2023 Via Zoom
To discuss one of God's essential aspects
illuminated throughout her book
Under the Bridges at Arroyo del Rey
Spirituality
With Main Presentation
Susie Katharine Shaw,
Director/Moderator
with
Ruth Broyde Sharone
and
Edward Goldstein
Spirituality: Intentional Faith
Scroll Down for:
Morning's Agenda
Speakers' Bios
Zoom Info
Lyrics & Prayer for This Salon
2023 Salon Dates/Themes
9:30 am Pacific Standard Time
Zoom Room Arrivals and
Himalayan Singing Bowls by Healing Arts Practitioner
Janet Martorello

10 am until noon – Program
Meditation
with
Nan Rae
Artist/Teacher/Author
Nan Rae's New Book - now available on Amazon --
Walk with Me... In the Garden of Our Friendship
includes many of Nan's Meditations for
The Salon on the Spiritually Creative Life
Opening Song
"The Kingdom of God"
with
Dean LeGrand Carlston, DDS
Composer/Singer/Instrumentalist
Dean welcomes us to listen to and download his music at no charge by accessing his personal website: deancarlston.com
Salute to Birthdays
with
Graham Lance Richardson
Retired Westside Realtor after 35 years.
Licensed Plumber & Gas Fitter.
Certified Welder to 100%.
Main Presentation:
Spirituality: Intentional Faith
Susie Katharine Shaw, Director/Moderator, sets the tone with her chosen emphasis for the day, as stated by Oswald Chambers: "Faith must be tested because it can only become your intimate possession through conflict. Believe steadfastly in God, and everything that challenges you will strengthen your Faith."
Ruth Broyde Sharone, honored internationally for her passionate interfaith leadership, underscores the universal cornerstones of spirituality.
Edward Goldstein concludes the program with his provocative message -- "Prayer Is a Waste of Time"
Music Interlude
by
Douglas Decker
Recording Engineer/Musician
"Lift Up My Soul"
Poetry Reading
with
Patricia Ferber
Sculptor/Painter/Educator/Curator/Poet
"Spirituality"
Followed by Discussion
Opening the Discussion will be Nino Wong, designer/business leader/Volunteer Chairman of the Chinese Garden Docents, Huntington Library and Botanical Gardens.
All are invited to continue sharing thoughts on Spirituality.
until noontime
Finale
"The Blessing"
Susie Katharine Shaw
Actress/Vocalist
To conclude Susie will lead us in Richard King's favorite
Native American Prayer

---
About Our Speakers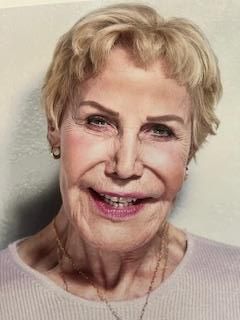 Susie Katharine Shaw, Director/Moderator
Former Schoolteacher with LAUSD [Los Angeles Unified School District]
Actor, Singer
Lifelong seeker for Wisdom and Truth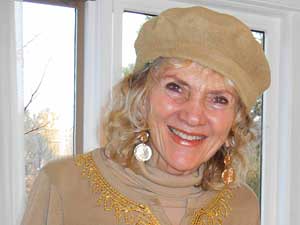 Ruth Broyde Sharone
Honored internationally for her passionate interfaith activism and leadership, Ruth Broyde Sharone, a filmmaker, journalist and author, is also the creator of MEET ME THERE, the Interfaith Musical, an exuberant celebration of our cultural and religious diversity. She released two albums from the musical, in 2015 and 2022, and also created a music workshop for communities and schools to teach diversity and inclusion.
In recognition of her contributions to bridge-building, Ruth was inducted into the Martin Luther King Advisory Board of Morehouse College in 2013 and the same year she also received a special commendation for her Interfaith Leadership from Los Angeles Mayor Eric Garcetti. The International Human Rights Consortium (IHRC) awarded her a Fete d'Excellence gold medal in Geneva in 2000 for her contributions to cultural education.
Together with Delores Gray, an African-American minister, Ruth pioneered ground-breaking interfaith pilgrimages to the Middle East in the 90s, highlighted by CNN World News in 1994. She also co-founded and served as Co-Chair of the Southern California Parliament of the World's Religions (SCCPWR) for 10 years.
Both her documentary, "God and Allah Need to Talk", and her interfaith memoir, "Minefields & Miracles," received multiple awards. Ruth also contributed more than 50 articles to the online magazine, The Interfaith Observer, and co-authored the 2018 Amazon best-seller, "21st Century Voices: Women Who Influence, Inspire, and Make a Difference."
In 2023 Album 2 of her interfaith musical received an Award of Merit from the Religion Communicators Council (RCC), the first time an album of music was recognized and honored in the annual Wilbur Award ceremony.
rabsharone@gmail.com (310) 733-8313
www.interfaiththemusical.com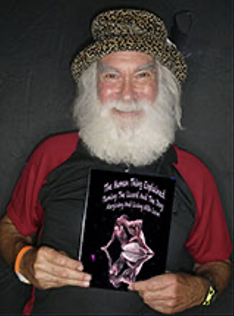 Edward Lee Goldstein
Edward Lee Goldstein, MA, MS, RPT, is a Health Educator, Lecturer, and a Physical Therapist. He is the author of several consciousness-raising books and counsels clients on human behavior, relationships, the healing power of forgiveness, and what it means to live with Love. As a physical therapist he has treated a number of celebrities . . . He works with clients in their homes, providing therapeutic massage, pain and stress management . . . and rehabilitation.
Regarding forgiveness and dealing with issues of anger, guilt, shame or blame, if you are a new client, and have never before experienced Edward's unique process for healing emotional or relationship challenges, he is offering today's Salon attendees a free telephone consultation, from December 11th to 26th, 2023. To set up an appointment, contact him at EdwardLeeGee@aim.com and expect "miracles."
---
For the time being, the Salon will continue to meet on Zoom. When appropriate, we will meet in person once again at Arroyo del Rey.
---
For access to the Salon on Zoom:
This meeting is being hosted by Zoom.
There is no charge to use this service.
Before the Salon on Sunday:
You will need to either go to the Zoom website, www.zoom.us, and register for a free account to access this meeting through your web browser or download and install the Zoom application on your device.
If you download the application to your device, you do NOT need to register for a free account. To download the Zoom application, click on this link... https://zoom.us/download
For any questions or assistance,
email Curtis McElhinney at Curtis@curtisvision.com
---
Lyrics & Poem
"Kingdom of God"
by Dean Legrand Carlston, 2023
No need to go outside for a better view
The center of our being is more beautiful
Truth lies inside where Heaven resides
Communion within brings forth the light
God abides within each heart and seeds us with divine mind
Look first into the chambers of your inner being
Never forgetting the kingdom of God is within
No need to go outside for a better view
This Lyric is inspired by the writings of: LAO-TZE,
Robert Browning, OVID, VALDIVAR, and JESUS
"Lift Up My Soul"
by Douglas Decker
Lift Up My Soul, gently my sweet
Close to our goal, wings at our feet
Lead me in truth, kindness and grace
Experience and youth meet face to face
Guide with mercy beyond this dream
Deliver liberty the Light Supreme
Lead us in truth with kindness and grace
Experience and youth will meet face to face
Guide with mercy beyond this dream
Deliver liberty the Light Supreme
Lift World Soul, gently my sweet
Close to our goal, wings at our feet
Lift World Soul with strength and peace
Close to our goal, gently my sweet
Om
"The Blessing"
by Kari Jobe Carnes, Cody Carnes 2020
The Lord bless you, and keep you.
May His Face shine upon you
And be gracious to you.
The Lord turns His Face toward you.
And gives you peace.
Amen. Amen. Amen.Amen.
Amen, Amen, Amen, Amen
"Spirituality"
by Patricia Ferber, Artist & Poet
Once you obtain it you can't let it go,
it prevails in your life wherever you go.
It resides deep within your heart and soul,
spirituality like personality, is unique on its own.
For each of us, it holds a special meaning
between you and your God,
it flourishes in the sunlight and the sky above when dark.
It dances with the shore as an incoming wave,
or snow on a mountaintop on a cold winter day.
Spirituality lightens the load, creating magic wherever you go,
It floats like a cloud embraced by divine love,
shining upon you from the heavens above.
---
All 2023 Salon dates and themes
STABILITY
Sunday, January 8, 2023
GROWTH
Sunday, February 12, 2023
POSSIBILITY
Sunday, March 12, 2023
FAITH
Sunday, April 9, 2023
GRATITUDE
Sunday, May 14, 2023
HUMOR
Sunday, June 11, 2023
UNDERSTANDING
Sunday, July 9, 2023
KINDNESS
Sunday, August 13, 2023
HARMONY
Sunday, September 10, 2023
LOVE
Sunday, October 8, 2023
HEALING
Sunday, November 12, 2023
SPIRITUALITY
Sunday, December 10, 2023
Please let us know which salons you can attend by calling (626) 449-1238.

With all loving thoughts and hoping to see you soon!
Carol Soucek King, M.F.A., Ph. D.
Email: KingCarol@aol.com

---
CAROL SOUCEK KING MFA, PhD © 2002-2022 All rights reserved