Institute for Philosophy & the Arts'
Salon on the Spiritually Creative Life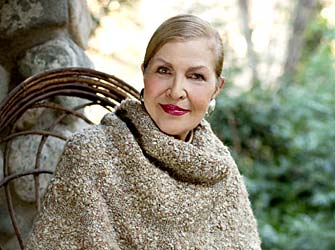 [Photography by Nathaniel Taylor]
THE SALON ON THE SPIRITUALLY CREATIVE LIFE
Our 25th Year Continues!
Please join Carol Soucek King virtually on
Sunday, July 11, 2021 Via Zoom
To discuss the fifth theme in her book
Under the Bridges at Arroyo del Rey
UNDERSTANDING
9:30 am – Zoom Room Arrivals and
Himalayan Singing Bowls by Healing Arts Practitioner
Janet Martorello

10 am until noon – Program
Meditation
with
Nan Rae
Artist/Teacher/Author


"Peace"
Nancy Glowacki
Composer/Vocalist
"Forgive Me"
Dean LeGrand Carlston, DDS
Singer/Guitarist
Salute to Birthdays
with
Graham Lance Richardson

UNDERSTANDING
The World of Contemporary Art & Artists
Presented by
Danielle Villicana
CEO Villicana D'Annibale, Inc.
Interspersed with Discussion
Getting us started with comments on "Understanding"
will be Patricia Ferber, David Bender, Jen Grey
& Gary Stickel.
All are invited to participate - just "raise your hand"
so that Curtis McElhinney will call on you.
Highlighted with Music
by
Alula Yohanes Tzadik
&
Doug Decker
Finale
"More I Cannot Wish You"
Susie Katharine Shaw
Actress/Vocalist
And then Susie will lead us in Richard King's favorite
Native American Prayer

---
About Our Speaker
Danielle Villicana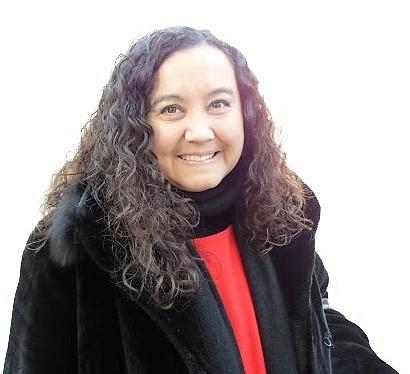 UNDERSTANDING THE WORLD OF CONTEMPORARY ART & ARTISTS
"I'd like to thank everyone attending The Salon on the Spiritually Creative Life for the opportunity to share about our gallery and artist agency. Our gallery, Villicana D'Annibale, Inc., represents outstanding artists of international acclaim. Our exhibitions range from figurative to abstract fine art and feature painting, sculpture, photography, installation and performance by emerging to established artists. Our artist agency specializes in promotion and services for artists. We love artists and contemporary art and are pleased to share with you our celebration of ten years of contemporary art. We have had many wonderful experiences over the years, and it will be delightful to discuss the importance of understanding both artists and the importance of contemporary art and art collecting."—Danielle Villicana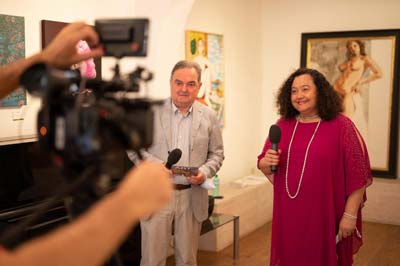 Danielle Villicana D'Annibale is an American artist, art dealer and art collector. She was born in San Francisco, California. In 1994, she graduated with a B.A. from Occidental College of Los Angeles in Art History and the Visual Arts with a minor in Theater and French.
In 1993, Danielle conducted the role of assistant to conceptual artist Eugenia Butler on the project The Kitchen Table presented at ART/LA'93 fair, where artists of the caliber of Marina Abramovic, Carolee Schneemann, Felipe Ehrenberg and other thirty figures of international level were present. Danielle also interned for distinguished Hollywood gallerist Jan Baum the same year.
The love for the Renaissance took her to Italy in the fall of 1994 where she studies at leading Florentine atelier, from Charles Cecil Studios to The Florence Academy, to the studio of Master Silvestro Pistolesi in 1996. She also studied printmaking with Sweitlan Kracyzna and Santa Reparata International School of Art. Afterward, she frequented the Academy of Fine Arts in Florence (Accademia di Belle Arti Firenze) from 1997 to 1998, and in the same year learned the techniques of fresco painting at the school Vainella of Leonetto Tintori in Prato.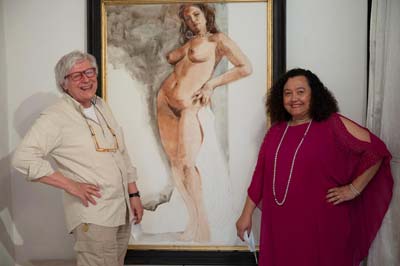 In summer of 1998 she returned to the United States to work for Treadway Industries in Las Vegas, Nevada, as well as with Saltman Art in Burbank, where she worked on prestigious projects including The Venetian Hotel & Casino, Aladdin Gaming, Universal Studios Japan, Disney California Adventure and others, as a sculptress, mural painter and decorator from1999 until 2000.
In June, 2001 she returned to Italy to work for the summer with noted American sculptor Milton Hebald at his studio in Bracciano, Rome. In the fall she resumed her studies in the fall at the Academy of Fine Arts in Florence (Accademia di Belle Arti Firenze), and soon after transferred to the Academy of Fine Arts in Rome (Accademia di Belle Arti Roma), and began working in the art department of production designer Francesco Frigeri at Cinecittà, where she interned from 2002 to 2003 working on Mel Gibson's film The Passion of the Christ.
She continued in the meantime her plastic and pictorial research, veering towards abstraction. Soon after she obtained her diploma in painting with highest honors in 2006 from the Academy of Fine Arts in Rome (Accademia di Belle Arti Roma), completing her studies with a thesis on sgraffito fresco painting.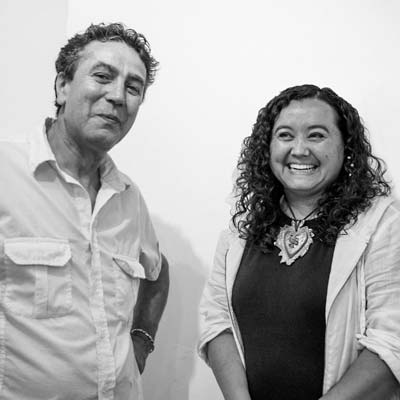 In 2010, collaborating with her husband light designer Maurizio D'Annibale (with Danielle at right), Danielle opened a contemporary art gallery, the Villicana D'Annibale Galleria D'Arte, in the historical center of Arezzo, Tuscany, immediately becoming a favored meeting place for Italian and foreign artists. In 2013 they closed the gallery and opened another project also dedicated to contemporary art, named Via Cavour 85.
In 2015 Danielle was awarded a "Premio Toscana Cultura" by Florentine journalist Fabrizio Borghini for her excellence in the promotion of contemporary art.
Expanding internationally, in 2016 Danielle founded Villicana D'Annibale, Inc., an international contemporary art gallery and artists agency headquartered in Pasadena, California with unità locale in Arezzo, Italy.
Since 1994 she has participated in numerous solo and group exhibits in Italy and the United States. Her works may be found in private and public collections in the US and Italy.
Danielle currently divides her time between her studio in Arezzo, Italy and Los Angeles, California organizing exhibits, publications and events for artists.
---
For the time being, the Salon will continue to meet on Zoom. When appropriate, we will meet in person once again at Arroyo del Rey.
---
For access to the Salon on Zoom:
This meeting is being hosted by Zoom.
There is no charge to use this service.
Before the Salon on Sunday:
You will need to either go to the Zoom website, www.zoom.us, and register for a free account to access this meeting through your web browser or download and install the Zoom application on your device.
If you download the application to your device, you do NOT need to register for a free account. To download the Zoom application, click on this link... https://zoom.us/download
For any questions or assistance,
email Curtis McElhinney at Curtis@curtisvision.com
---
"Forgive Me"
Dean LeGrand Carlston © August 12, 2018
Forgive me, I know I've been wrong,
my emotions erupt from deep inside,
I must consider their effect and tame my pride
How is it you're always so kind, to see beyond my indiscretion?
As you spread grace and love to all with tender affection
You release my soul to search beyond the limits of my mind
To seek truth and lift the veil that kept me blind
I'm learning to embrace forgiveness to set me free
I'm learning I'm a part of you, and you of me.
Your love lifts me up to higher ground
That place where grace, forgiveness and joy abound
Thank you for your light that sets me free
Through faith hope and charity, I now can see.
"More I Cannot Wish You"
by Frank Loesser
Velvet I can wish you for the collar of your coat and fortune smiling all along your way
But more I cannot wish you than to wish you find your love, your own true love this day
Mansions I can wish you, seven footmen all in red and calling cards upon a silver tray
But more I cannot wish you than to wish you find your love, your own true love this day
Standing there gazing at you, full of the bloom of youth
Standing there gazing at you with a true heart
and the love of the Lord.
Music I can wish you, merry music while you're young, and wisdom when your hair has turned to gray
But more I cannot wish you than to wish you find your love,
your own true love this day,
With a true heart and the love of the Lord
And the strong arms to carry you away.
"Peace"
Nancy Glowacki © 1988
Peace…is something of the mind…
it's a decision to be kind
A choice to be "not blind"
Peace is something of the heart…
an understanding that we're not apart
That we've been ONE from the start
And we all know…
peace is a journey for the soul
A path each one of us can take
"When?" will be the choice we make
But it is clear … that every living thing that BE
Cries out for love from you and me
So NOW...now is the time to see
That peace...is also something to be done…
the end to hunger can be won
We could silence every gun!
Peace is an idea …whose time has come!
---
All 2021 Salon dates and themes
STABILITY
Sunday, January 10, 2021
GROWTH
Sunday, February 14, 2021
POSSIBILITY
Sunday, March 14, 2021
SPECIAL PRESENTATION
Sunday, April 11, 2021
SPECIAL PRESENTATION
Sunday, May 9, 2021
HUMOR
Sunday, June 13, 2021
UNDERSTANDING
Sunday, July 11, 2021
KINDNESS
Sunday, August 8, 2021
HARMONY
Sunday, September 12, 2021
LOVE
Sunday, October 10, 2021
HEALING
Sunday, November 14, 2021
SPIRITUALITY
Sunday, December 12, 2021
Please let us know which salons you can attend by calling (626) 449-1238.

With all loving thoughts and hoping to see you soon!
Carol Soucek King, M.F.A., Ph. D.
Email: KingCarol@aol.com

---
CAROL SOUCEK KING MFA, PhD © 2002-2020 All rights reserved