Institute for Philosophy & the Arts'
Salon on the Spiritually Creative Life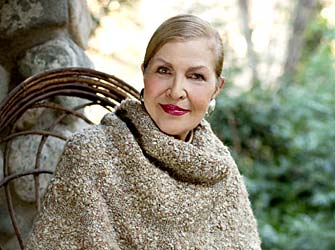 [Photography by Nathaniel Taylor]
THE SALON ON THE SPIRITUALLY CREATIVE LIFE
Our 25th Year Continues!
Please join Carol Soucek King virtually on
Sunday, September 12, 2021 Via Zoom
To discuss the seventh theme in her book
Under the Bridges at Arroyo del Rey
HARMONY
with
Viva Sullivan
Master Picture Framer
9:30 am – Zoom Room Arrivals and
Himalayan Singing Bowls by Healing Arts Practitioner
Janet Martorello

10 am until noon – Program
Meditation
with
Nan Rae
Artist/Teacher/Author
Commemoration of Rosh Hashanah
Gayle Gale
Kids for Peace Founder
&
Alula Yohanes Tzadik
Singer/Composer
Salute to Birthdays
with
Graham Lance Richardson
Opening Song
"One Family"
Dean LeGrand Carlston, DDS
Composer/Singer/Instrumentalist
Main Address:
The Harmony of Art and Framing
Presented by
Viva Sullivan
Master Art Framer
Followed with Discussion
Getting us started with comments will be Edward Goldstein on his newest book Grace, A Christian Lion's Healing Journey, Lessons on Forgiveness.
All are invited to participate - just "raise your hand"
so that Curtis McElhinney will call on you.
Highlighted with Music
by
Douglas Decker
Leonard Cohen's "Hallelujah"
"What'll It Take?"
Nancy Glowacki
Composer/Singer
Finale
"What a Wonderful World"
by Bob Thiele & George David Weiss 
Susie Katharine Shaw
Actress/Vocalist
To conclude Susie will lead us in Richard King's favorite
Native American Prayer

---
About Our Speaker
Viva Sullivan
vivasullivan.com
Master Picture Framer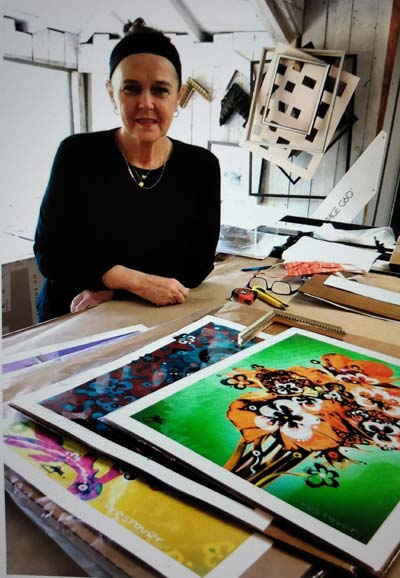 Left: Viva Sullivan before collaborative works by artist Todd Westover and photographer Jeffrey Sklan, for whom she recently framed the entire series.
The Harmony of Art and Framing
Viva Sullivan is a master picture framer – and she adores what she does. As she says: "Picture framing itself is an art. I am an artist. And every job is an act of love."
And as soon as you meet Viva, this passion for her life's work is evident. She is excited, motivated, and energized by all types of art and all types of artists – a quality that she picked up early on from her family. Viva was born on a farm in Ireland to a large Catholic family with six brothers and sisters - all of whom now are scattered around the globe, and all cultural creatives in their own ways -- musicians, singers, painters, world travelers "and troublemakers!" says Viva. By the time Viva herself was 18 years old she had lived chunks of her life on three different continents – landing in Australia where she started her first four-year fine art apprenticeship, soon thereafter working with the major custom picture framer, Danube in Melbourne, the firm with whom she stayed on as head designer for an additional four years. Also while in Australia, Viva was a founding member of Melbourne University's "Specialized Skills in Fine Arts" program. In addition, Viva learned the art of mosaic tiling at Tafe College of the Arts in Melbourne.
Later in Los Angeles, Viva started a second three-and-a-half-year apprenticeship at McConnell's Gallery and stayed on as head designer and manager before establishing her own picture framing studio in the Hollywood Hills in 1997. At the Getty Villa in Los Angeles, she learned Repose and Fresco painting. So art definitely has been Viva's life, art in all its forms! At this Salon she will deepen our awareness of the harmony of art and framing.
Viva's specialties are design and exhibition consultation, restoration and full custom and conservation framing. Viva maintains her studio at her and her husband's home in the Hollywood Hills, therefore her overheads are low, allowing major savings to be passed on to clients. After many years in this business, she has a wide-ranging knowledge of contemporary, antique and period styles. She prefers to use conservation glass, or conservation plexiglass, because conservation glass and conservation plexi block harmful UV rays, thereby preventing fading and damage to photos and graphic art.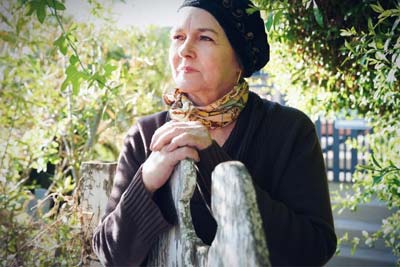 Right: Viva Sullivan in her garden, from forthcoming documentary film by Jennifer Floyd
This master framer's forte is working with the warmth of hand-waxed polished wood, rather than the standard black lacquer frames generally used in the industry. She specializes in framing photography, incorporating Italian gold leaf, hand-wrapped fabric mats which are all museum grade materials, as well as baroque mirror framing. Her signature is using hand-made Italian papers for frame backing. Basically, there isn't anything that Viva Sullivan cannot do in framing: restoration of oil paintings and vintage frames, re-silvering of mirrors, stretching and realigning canvases, framing archival documents and materials, framing collectible manuscripts, early needlepoint samplers, engravings, pastels, as well as legal documents, i.e. degrees and diplomas.
At the Salon, Viva will show a sample of how a frame is finished from a display board. Also, within the restrictions of Zoom, she will share the steps on how a linen mat is covered. And all gathered at the September 12 Salon on Zoom will understand that to Viva what she says really is true: "Every job is an act of love."
And also you will start to understand that whenever you are with Viva, her family is close by – either in person or in spirit – and they are all wonderful. Her two brothers have passed onward, but her three sisters as well as her husband are constant stars in her galaxy on Earth:
Maireid Sullivan -- a singer, songwriter/poet, recording artist, a multi-media arts producer/ project coordinator; a "student of history". She is dedicated to learning and committed to cultural resilience through the arts, with primary focus on health and economic history, as curator for globalartscollective.org
Noreen Sullivan -- In her mid-twenties she became the first female croupier at Caesars Palace in Las Vegas while studying Hotel Casino Management. This funded her worldwide extended travels before she settled in Melbourne, Australia.
Carmel Boss -- a visionary artist, world traveler, business woman, and proud mother.. She has 25-years of experience in the "for profit" and "non-profit" sectors. She is the founder of CoAbode, a successful mission-driven, long-term, house sharing service, currently modeling a new path toward prosperity and independence for single Mothers. Founding CoAbode is her life's true purpose.
And last but definitely not least is Viva's husband, of whom she writes: "Special thanks to my husband Anje Wolczynski for all of his support over the last 30 years as a helping hand especially with my big projects and major art works that only he can handle with utmost care and knowledge, and as my personal photographer and emotional support. Anje is a major art handler for a private company. The love of my life."
---
For the time being, the Salon will continue to meet on Zoom. When appropriate, we will meet in person once again at Arroyo del Rey.
---
For access to the Salon on Zoom:
This meeting is being hosted by Zoom.
There is no charge to use this service.
Before the Salon on Sunday:
You will need to either go to the Zoom website, www.zoom.us, and register for a free account to access this meeting through your web browser or download and install the Zoom application on your device.
If you download the application to your device, you do NOT need to register for a free account. To download the Zoom application, click on this link... https://zoom.us/download
For any questions or assistance,
email Curtis McElhinney at Curtis@curtisvision.com
---
"One Family"
By Dean LeGrand Carlston, DDS
Earth is an oasis in a Celestial Embrace
A fragile pearl suspended in its own special place
We can create our own destiny,
in truth Earth's destiny too
We can create peace and unity,
our future depends on me and you
So let's all come together creating our own Mandate
Effective change will rid us of prejudice and hate
Begin as individuals reaching out arms open wide
We can make the difference working together side by side
We humans hold dominion over Earth's creatures large and small
Earth's great wealth and beauty must be accessible to us all
We with all our differences truly hold the key
Unity will never come until we all agree
To see beyond our differences,
which make us all unique
To love and protect each other and leave
the rest to God's Critique
When greed and envy are put aside,
when love and caring take their place
We will create one united family of the entire human race
"What'll It Take?"
by Nancy Glowacki 1986
What'll it take to change the world around?
What'll bring some light when things are looking down?
What'll it take to care about the needs that we see?
It'll take some change...a little mind change....
It'll take a heart change...in you and me.
What'll it take to be a friend everywhere?
What'll make us glad we have a world to share?
What'll it take to have all people really feeling free?
It'll take some change...some peaceful change
Some gentle change...in you and me.
One great change that there could be is
to let go of fear more easily
And let love be the way we act...
knowing what we give is what comes back...
What'll it take to know that every soul wants peace?
What'll stop the blame...have all war cease?
What'll it take to have us be living harmony ?
It'll take some change...are we willing for some change?
It's time to feel a change ...in you and me.
"What a Wonderful World"
by Bob Thiele & George David Weiss
I see trees of green, red roses too,
I see them bloom for me and you
And I say to myself, "It's a wonderful world."
I see skies of blue, clouds of white
Bright blessed day, the dark sacred night.
And I say to myself, "What a wonderful world."
The colors of the rainbow so pretty in the sky
And also on the faces of people passing by.
I see friends shaking hands, saying "How do you do?"
They're really saying, "I love you."
I hear babies cry, I watch them grow
They'll learn much more then I'll ever know.
And I say to myself, "What a wonderful world."
---
All 2021 Salon dates and themes
STABILITY
Sunday, January 10, 2021
GROWTH
Sunday, February 14, 2021
POSSIBILITY
Sunday, March 14, 2021
SPECIAL PRESENTATION
Sunday, April 11, 2021
SPECIAL PRESENTATION
Sunday, May 9, 2021
HUMOR
Sunday, June 13, 2021
UNDERSTANDING
Sunday, July 11, 2021
KINDNESS
Sunday, August 8, 2021
HARMONY
Sunday, September 12, 2021
LOVE
Sunday, October 10, 2021
HEALING
Sunday, November 14, 2021
SPIRITUALITY
Sunday, December 12, 2021
Please let us know which salons you can attend by calling (626) 449-1238.

With all loving thoughts and hoping to see you soon!
Carol Soucek King, M.F.A., Ph. D.
Email: KingCarol@aol.com

---
CAROL SOUCEK KING MFA, PhD © 2002-2020 All rights reserved