Institute for Philosophy & the Arts'
Salon on the Spiritually Creative Life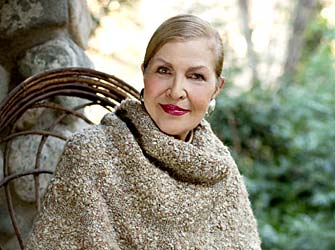 [Photography by Nathaniel Taylor]
THE SALON ON THE SPIRITUALLY CREATIVE LIFE
Welcome Everyone!
Our 26th Year Continues... on Zoom!
Please join Carol Soucek King virtually on
Sunday, May 8, 2022 Via Zoom
To discuss life's essential treasure
illuminated throughout her book
Under the Bridges at Arroyo del Rey
GRATITUDE
with three visionaries
Susan Olsen, Artist & Producer of this Program
Diane Schenandoah ~ Tekahnatshyali:te
Janice Bryant ~ Kahehtoktha
Living in oneness with our mother the earth has been the way of indigenous peoples for eons – a way for life as well for artist Susan Olsen, herself former Salon presenter. So it is with our gratitude that Susan is introducing us to her treasured Diane Schenandoah and Janice Brant of the Haudenosaunee Confederacy of the Six Nations ... Janice is of the Mohawk Nation... she is horticulturist/farmer, seed keeper, poet, preserver and teacher of the Mohawk language. Diane is of the Oneida Nation ... she is Faith Keeper of the Oneida Wolf Clan, Sculptor, Spiritual Counselor. They both live according to the sacred traditions passed down from their hallowed ancestors, and teach the ways of peace and harmony with all living beings. They will pass on some of their knowledge and insights to you as they tell of activities of their daily lives and share their vibrant works of art.
Scroll Down for:
Morning's Agenda
Speakers' Bio
Zoom Info
Lyrics for Today's Songs
2022 Salon Dates/Themes
9:30 am Pacific Standard Time
Zoom Room Arrivals and
Himalayan Singing Bowls by Healing Arts Practitioner
Janet Martorello

10 am until noon – Program
Meditation
with
Nan Rae
Artist/Teacher/Author
Opening Song
"Mama"
Dean LeGrand Carlston, DDS
Composer/Singer/Instrumentalist
Salute to Birthdays
with
Graham Lance Richardson
Licensed Plumber & Gas Fitter,
Certified Welder to 100% X-ray/Realtor
Main Presentation:
Susan Olsen, Artist & Producer of this Program
"Indigenous Artists Give
Gratitude to Mother Earth"
with
Diane Schenandoah - Tekahnatshyali:te
Janice Brant - Kahèhtoktha
Music Interlude
by
Douglas Decker
Recording Engineer/Musician
"Because You Loved Me"
Followed by Discussion
Leading us off as we share our thoughts on GRATITUDE
Brian Alan Baker, Attorney, and Chairman of the Board Emeritus/Pasadena Heritage
Kalee Thomas, U.S.Navy Junior/Navy Veteran
& Navy Spouse -- and spokesperson/League of Wives Memorial Project
Carol Oveross, RYT, Integrative Yoga Therapist & Artist
All are invited to participate - just "raise your hand"
so that Curtis McElhinney will call on you.
Finale
"Mother"
Susie Katharine Shaw
Actress/Vocalist
To conclude Susie will lead us in Richard King's favorite
Native American Prayer

---
About Our Speakers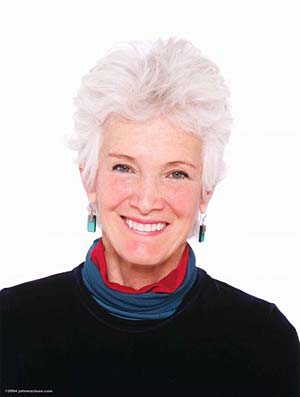 Susan Olsen
Artist & Creator of Program
"Indigenous Artists Give Gratitude to Mother Earth"
Living in oneness with our mother the earth has been the way of indigenous peoples for eons – a way for life as well for artist Susan Olsen, herself a former presenter at The Salon. So it is with our gratitude that Susan is introducing us to her treasured Diane Schenandoah and Janice Brant of the Haudenosaunee Confederacy of the Six Nations.
Susan Olsen has been deeply moved by her magical friendship with these women, and is humbled and grateful for her immersion in their culture, and sharing with the women and others of their clans. She is thrilled to be able to present the insights and works of her dear friends as a sister in their love of the earth mother of all.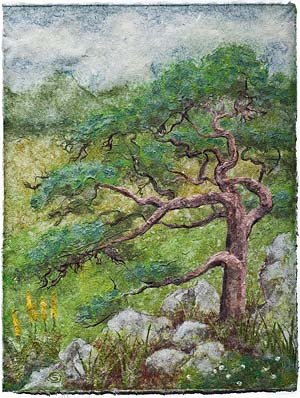 Right: "White Pine" Susan says "I love to create trees. They connect heaven and Earth! This piece is made with color pulps of Mulberry tree innerbark fiber."
In her previous Salon presentation, Susan has shared her art celebrating the splendor of the natural world.
Susan practices a rare art form that she calls, "The Paper is a Painting," a rare medium of paper art that she has been incorporating as a professional artist for forty-eight years. The procedures were passed on to her by the master of a papermaking hamlet in Japan. She savors perpetuating the ancient tradition and "doing the whole thing from scratch." Classic papermaking source plants are harvested and processed to produce colored pulps, which are applied to a screen and shaped into image. When the sheet is dry it is peeled off the paper, making mould/screen, and ... The Paper is a Painting.
Susan Olsen's creations are odes to the wonders of nature and to humans who have lived with the insight of the unity of all.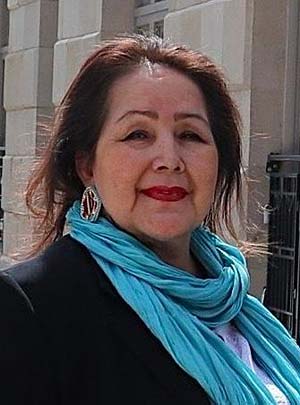 Diane Schenandoah
Tekahnatshyali:te
dianeschenandoah@gmail.com
Her name is "Tekahnatshyali:te," which in her language means, "She Brings the Dawn." Diane Schenandoah is Oneida, of the Haudenosaunee (Iroquois) confederacy. She shines her healing light as a sculptor, writer, teacher, singer.
Reared on Oneida Indian Territory in upstate New York, Diane was first inspired by her artist mother Maisie Shenandoah, who was Wolf Clan Mother of the Oneida people. "My mother collected ancient Haudenosaunee artifacts and encouraged us children to be creative as she taught us how to make rattles, baskets, corn husk dolls do beadwork, and so on." Diane was to express the art spirit from then on, fully realizing her gift as a sculptor while attending the Institute of American Art in Santa Fe, where she received degrees in fine arts and creative writing.
In the creation of her art pieces, she uses natural materials offered to us by Creator. "I shape clay from mother earth, or chisel stone, marble and bone. I often carve sculptures from the bone of deer, buffalo or caribou. Working with Mother Earth gives me a certain closeness beyond the art piece. It's a grand feeling knowing that the ancestors before have passed through this clay." This connection to the earth gives her strength and inspiration.
Diane says, "I enjoy combining several of the natural elements into one sculpture."
This use of variety of natural materials can be seen clearly in "Calling All of Creation," one of her museum pieces which depicts two Haudenosaunee men facing each other on a bench as they beat their turtle rattles in a sacred form of song. The sculpture is fashioned from Ohio clay and mounted on a black walnut base. The rattles are made of buffalo horn, the feathers of the gustoay (ceremonial hat) are composed of carved Quahoghog shells and wild turkey feathers.
Diane Schenandoah is Faith Keeper of the Wolf Clan of the Oneida Nation. The title is Kaié:ri niioríwake Iakoteríhonton. It is her role to promote the traditions of the people, uphold Haudenosaunee culture and language, and serve as a spiritual advisor. Faith Keepers are well versed in the history of their people so that they can continue to share it with future generations.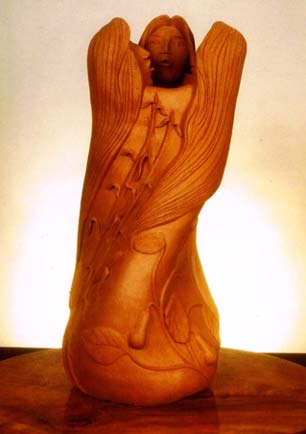 Right: "Three Sisters" Fashioned of clay from the region fired with iron oxide glaze.
Expressing the spiritual significance of the work is paramount to Diane. "Every sculpture must depict something meaningful from my culture and reflect the spiritual realities of my people. For example, my Utah alabaster stone bear entitled, 'Transformation,' represents how the bear becomes one with a bear clan person, who then becomes cloaked with the healing power and medicines of bear."
Diane shares through her art Haudenosaunee legends and the importance to the people of social, spiritual and emotional harmony. One of most powerful legends tells of the people's commitment to peace among the different nations of the Haudenosaunee confederacy – the Mohawk, Oneida, Onondaga, Seneca, Cayuga:
Around the year 1200 after a long period of warring among the tribes, three prominent leaders joined to change this pattern – Aionwatha (Hiawatha), Jigonhsasee (female leader – the first clan mother - Mother of Nations), and Peacemaker, to instill a tradition of peace amongst the tribes. They went to beseech through open-hearted kindness alliance with a powerful and violent chief - Tadadaho, who ended up "seeing the light." Then the four met at the sacred White Pine, the "Tree of Peace," under which all weapons were buried. This event was to mark the beginning of a tradition of peace and democracy that has prevailed for centuries amongst the Iroquois, and was an inspiration to the founders of the USA.
For thirty years she has performed with her dear sister, Joanne Shenandoah, harmonizing with the beloved songstress through voice, rattles and drum.
Diane sums up her view on her gift as an artist, "My goal is to reach out to people everywhere and share the beauty of Indian life and culture, and to give them hope through my art work and teachings." At present she is teaching a course at Syracuse University as Honwadiyenawa'sek -one who helps them. "I share as much as possible of the Haudenosaunee culture and teachings, and share how we arrived at being people of peace, and I guide students in healing techniques such as hands-on energy work, art therapy, the use of tuning forks, acupressure, dream interpretation and ceremony to best be in a state to express gratitude and promote the use of a good mind."
Ms. Shenandoah has pieces in the permanent collections of New York State Museum, Iroquois Museum, The Heard Museum in Phoenix, Johnson's Museum of Art at Cornell University, the Mashantucket Museum, and the Rancocus Fine Arts Museum. She has exhibited in New York at American Indian Community House, Earth Visions – Arts and the Woodland Peoples, Emerson Art gallery, Everson Museum of Art, and the Munson William Proctor Museum. In other areas her work can be seen at First People's gallery, Ancient Traditions Gallery, Institute of American Indian Arts Museum, Six Directions Gallery, and Institute of American Indian Studies.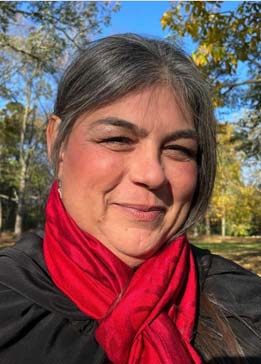 Kahèhtoktha
Janice Brant
Kanyen'keha:ka (Mohawk) Artist, Seed Keeper, Story Teller Tyendinaga Mohawk Territory, Ontario, Canada
"Kanyen'keha:ka niwakhwentsyo:ten, Kenthtekenitiwake:non tahon Kenteke kenakere"
"I am Mohawk from the Bay of Quinte and this is where I live"
Kahèhtoktha ~ Janice Brant, OCT, M.Ad.Ed., B.Ed., BAH Indigenous Studies
Janice Brant is Kanyanke'ha'ka (Mohawk) from Tyendinaga Mohawk Territory, on the north shore of Lake Ontario …Ontario, Canada. She sits with the Bear Clan and carries on her family heritage as a dedicated farmer. She was given her Mohawk name at birth – Kahèhtoktha – which means, "she goes the length of the garden". As a language and culture teacher, Janice perpetuates the knowledge of the Mohawk language and traditions. She loves storytelling, art, history, and cooking.
Kahèhtoktha is devoted to living in the awareness of the connection of all beings of mother earth. She is an actionist for sacred ecology and seed conservation and helped to found Ratinenhayen:thos "they are farmers of the seed" and the Kenhte:ke Seed Sanctuary & Learning Centre (KSSLC), host to a living seed collection of 300 indigenous and heirloom vegetables, herbs and flowers.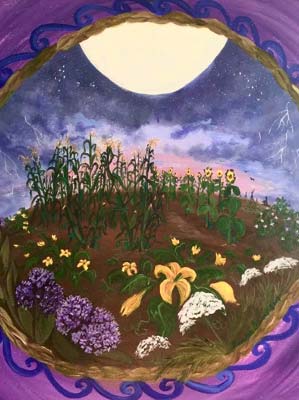 Right: "Night Garden" – Grandmother Moon Shines Upon Plants of the Northern Woodlands Indigenous Spirit Matters Collection
Janice Brant continues to study and practice Kanyenka'ha (Mohawk language) and culture. She shares her gifts and knowledge of the Rorinonhsyon:ni ­– The People of the Longhouse, the Iroquois Confederacy – telling of the spirituality, legends, and way of life of the longhouse through her paintings and the ceremony of daily life.
Links:
Janice's work at the seed sanctuary at Tyendinega Mohawk Territory
https://rematriation.com/passing-the-seeds-a-seed-rematriation-story/
Kahèhtoktha -- Grinding Stone presentation for Prince Edward County Museum
https://www.youtube.com/watch?v=VVdM2bvtS8Q&t
Janice Brant's article in Narwhal Magazine on the seed sanctuary and seed keeping:
https://thenarwhal.ca/tyendinaga-mohawk-territory-seed-sanctuary/
Janice requests that donations be made to Kenhteke Seed Sanctuary and Learning Center
https://kenhtekeseedsanctuary.com/
https://www.paypal.com/donate/?hosted_button_id=8KZWTR4BXZYUG&source=url
Booklet on Indigenous Technologies
https://www.youtube.com/watch?v=VVdM2bvtS8Q&t
---
For the time being, the Salon will continue to meet on Zoom. When appropriate, we will meet in person once again at Arroyo del Rey.
---
For access to the Salon on Zoom:
This meeting is being hosted by Zoom.
There is no charge to use this service.
Before the Salon on Sunday:
You will need to either go to the Zoom website, www.zoom.us, and register for a free account to access this meeting through your web browser or download and install the Zoom application on your device.
If you download the application to your device, you do NOT need to register for a free account. To download the Zoom application, click on this link... https://zoom.us/download
For any questions or assistance,
email Curtis McElhinney at Curtis@curtisvision.com
---
LYRICS
"Mama"
Lyrice and Music by Dean LeGrand Carlston
You could have been in the movies
An actress a famous star
You had the looks and talent
That could have taken you high and far
But you chose to be a wife and mother
To create life, give it meaning and direction
In my eyes there will never be another
For whom I hold this special kind of affection
Mama, you're my star, you gave me life and self-esteem
Mama, you're my star, you helped fulfill my childhood dreams
You're the heroine in my life's drama
You're my friend, my confidant, my Mama
You didn't seek the world's acclaim
Fame and fortune's dream you cast aside
You decided to pursue Motherhood,
to be our teacher, director, Papa's bride
You didn't choose an easy road
And you never shrank from your obligation
The consummate homemaker, eternal optimist
Finally gets her standing ovation
Mama, you're my star, you gave me life and self-esteem
Mama, you're my star, you helped fulfill my childhood dreams
You're the heroine in my life's drama
You're my friend, my confidant, my Mama
"Because You Loved Me"
by Diane Warren
For all those times you stood by me
For all the truth that you made me see
For all the joy you brought to my life
For all the wrong that you made right
For every dream you made come true
For all the love I found in you
I would be forever thankful, baby
You're the one who held me up
Never let me fall
You're the one who saw me through, through it all
[Chorus]
You were my strength when I was weak
You were my voice when I couldn't speak
You were my eyes when I couldn't see
You saw the best there was in me
Lifted me up when I couldn't reach
You gave me faith 'cause you believed
I'm everything I am
Because you loved me
"Mother"
Lyrics by Howard Johnson - Melody by Theodora Morse
M is for the many things you gave me.
O is only that you're growing old.
T is for the tears you shed to save me.
H is for your heart of purest gold.
E is for your everlasting kindness
R is right and right you'll always be.
Put them all together they spell
MOTHER
The word that means so very much to me.
---
All 2022 Salon dates and themes
STABILITY
Sunday, January 9, 2022
GROWTH
Sunday, February 13, 2022
POSSIBILITY
Sunday, March 13, 2022
FAITH
Sunday, April 10, 2022
GRATITUDE
Sunday, May 8, 2022
HUMOR
Sunday, June 12, 2022
UNDERSTANDING
Sunday, July 10, 2022
KINDNESS
Sunday, August 14, 2022
HARMONY
Sunday, September 11, 2022
LOVE
Sunday, October 9, 2022
HEALING
Sunday, November 13, 2022
SPIRITUALITY
Sunday, December 11, 2022
Please let us know which salons you can attend by calling (626) 449-1238.

With all loving thoughts and hoping to see you soon!
Carol Soucek King, M.F.A., Ph. D.
Email: KingCarol@aol.com

---
CAROL SOUCEK KING MFA, PhD © 2002-2022 All rights reserved